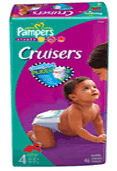 I wanted to share something really cool from
Pampers
for my readers that have babies. Join in the Pampers Great Baby Relay. You can submit a video of your baby crawling or walking for the Pampers casting call to be in the upcoming Pampers commercial. I wish they had something like this when Noah was a baby. He was adorable when he was crawling and just starting to walk. Submit your videos to
Pampers
by February 20, 2010. The commercial will air February 28, 2010. Happy crawling and walking!
Here are the official details:
Did you know that a cruising baby in one day can take as many steps as a marathon runner in a race*, and a nine-month old baby can crawl up to 400 meters in 20 minutes**? It's this active play that continually inspires the Pampers brand, and that's why moms and dads are encouraged to log on to
Pampers.com
beginning February 15 to join in celebrating the development of their own best players. Parents can upload videos of their babies crawling to the world's great baby relay on
Pampers.com
. All videos featuring babies crawling from left to right that are uploaded by Feb. 20 will be included in a casting call for a commercial that will air on Feb. 28!
I have a relationship with Pampers so I have the opportunity to tell you about exciting news and about new Pampers products.