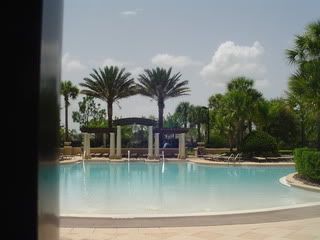 My family had the amazing opportunity to go on vacation to Orlando. I love Orlando because I love going to Disney. Well honestly I have a new favorite thing about Orlando. My new favorite thing was where we stayed. We had the pleasure of staying at a property by Global Resort Homes. We stayed in Windsor Hills.
Global Resort Homes
is an amazing rental company. The staff is very friendly and helpful to make your stay what you want it to be. All of the units are owned by people. They are not timeshares. There is no trading your weeks or having a set date you must go every year. I had a friend who owned a time share and she hated having to go the same week every year. You can pick when you go and you don't have to buy anything extra. Think of it as the most amazing "hotel" you will ever stay in because you just book it like you would book any other place you would stay on vacation.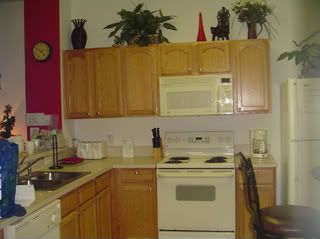 Disney with my almost 4 year old was very trying and hot and not the happiest place on Earth. During those trying times of waiting in line and listening to Noah scream and cry all I could do is think about going back to our amazing vacation home and jumping in the pool and relaxing. We had a gorgeous 3 bedroom town home to stay in. The vacation home became my own
personal oasis
away from the chaos of the other tourists at the parks. The armies of people from other countries that walked 10 people across around Disney, and SeaWorld were everywhere. The location was great too. I loved not having to ride in the car for a long time after being out with my family.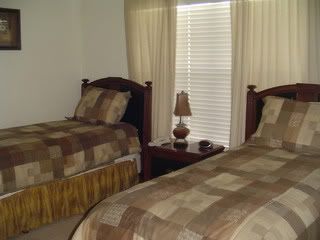 Noah who had been up since 4 am the morning we got there with no nap was glad to be out of the car, the plane and the shuttle bus. He was still cranky when we walked in. Noah saw our dip pool and did a complete 180 and was so excited and wanted to go swimming! I knew that all of the properties had some kind of pool but I was surprised how big the dip pool was. I guess I was thinking it was comparable to a baby pool. I was wrong it was awesome. It was private and didn't require a walk or drive back to change. We had never stayed at a place where there was our very own pool. I am sure some of you know about how I like to relax and not really deal with 20 screaming kids throwing footballs from the pool to the hot tub.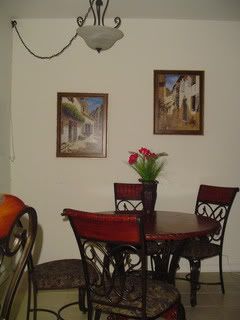 The vacation home was beautiful. I loved all the decorations and it was very inviting. The first thing I did was remove the beautifully set table. I didn't want to break anything and I thought that it would be a good idea to remove the dishes from being out. The kitchen had everything you could think of as far as dishes and utensils which was nice because we decided to have a frozen pizza on our first night cooked in our own oven. We stocked the fridge with lots of milk and juice and soda. Noah kept trying to get the milk out and pour himself a cup. Each of the bedrooms had their own bathroom and TV in each bedroom. There was also a nice flat screen TV in the family room. All of the beds were really comfortable too.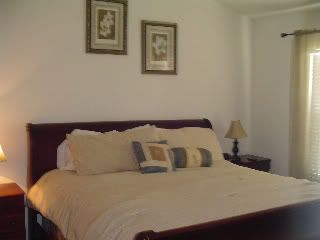 I slept in the master bedroom and the king size bed was so comfortable. I ended up falling asleep the day we arrived around 5 pm because I was so worn out. I didn't intend to do so but I was lying in bed watching TV and the next thing I know I woke up and it was 8 pm. I loved having all the room to myself and the sheets and blankets were so soft. I had a ceiling fan that was controlled by a remote. The size of the town house was great because there was actually breathing room. Even with a suite at a hotel there is still never enough room. I consider myself a accommodations snob where I will only stay in really nice places.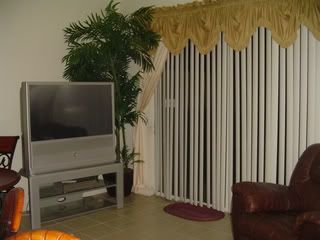 When I found out that every unit has a washer and dryer, I was thinking that was cool but I probably wouldn't do laundry on vacation. I was wrong, I did quite a bit of it during my week stay. The neighborhood also had an awesome playground that Noah loved to play on. They had a giant chess board and Noah built a city with it. When he was finished he said "Hey boys and girls, look at my city." I really liked the sundry shop. I am such a sucker for gift shops and little stores. I had really bad sunburn on the back of my neck. It was really painful. I walked over to the Sundry shop and I found a bottle of Aloe, a really big bottle of aloe. I immediately bought it and got relief without leaving the gates of our community. I was extremely thankful that they had aloe among the many other items they sold.
I highly recommend staying at a
Global Resort Homes
property the next time you visit Orlando. They provide all the comforts of home with luxurious accommodations.
Thank you so much to
Global Resort Homes
for inviting my family to stay for a complimentary week at one of your awesome vacation homes.