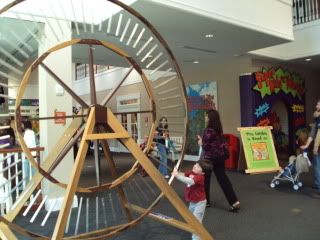 While we were in St. Louis, we had the opportunity to visit
The Magic House
which is St. Louis Children's Museum. This was definitely Noah's favorite thing we did. The Magic House is an amazing place. The whole building is full of hands on activities for kids to do. There were so many things to do. We didn't get to do them all but we had a lot of fun. Everything was educational. I am a strong believer that children learn through play and using their imagination vs. sitting down and learning from hearing someone talk. It was really neat to see all the children learning without realizing it. We were lucky too because the staff was dressed up for Halloween and Noah was able to Trick or Treat some right in
The Magic House
.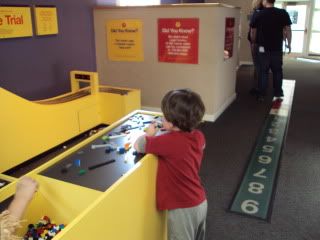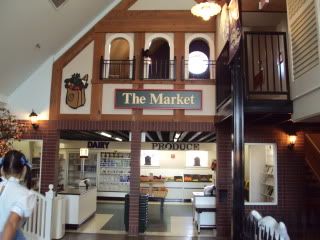 We really enjoyed working on the car and changing the tires. We also loved fishing in the pond. There was a grocery store that looked like the real thing. Noah and I enjoyed pretending to shop and playing cashier. Another great thing about
The Magic House
is that you can just let your child roam free and you can just sit back and watch them explore. There aren't lines you have to wait in. It is a really different environment than the other things we did. There were different rooms and just was really fun. Noah played with Legos for about a half hour with older kids. I love watching Noah interact with others. He has great ideas and is not really shy around other kids. He went up to them and asked to play with them. He was polite and shared well.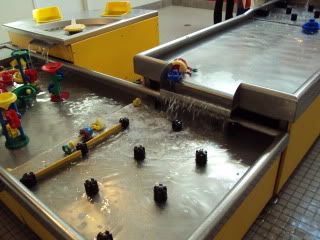 We loved the giant water table too. Although Noah had wet pants after that, next time we should do the water table last. He didn't mind though. He had so much fun playing with the ducks and boats and just splashing around. There were water wheels too. I had to remind Noah to walk carefully in the room with the water table because the floor was wet wet wet. He kept going back to the fishing pond and fishing. He was so proud to catch fish. I was exploring a little too. I had my mom keep an eye on Noah and I went in the bubble room. I saw on the website you can be inside a bubble. I didn't try to do that because there were kids trying to do it. I did try the other bubble activities. My only complaint was they needed to refill the bubble solution for each of the bubble activities. I was able to make some cool bubble shapes though.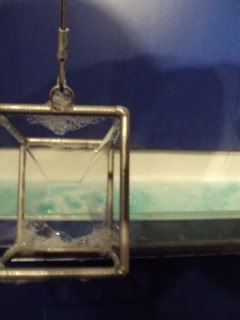 When we were ready to go Noah didn't want to leave, he wanted to stay there. I think he wanted to move in. I was thinking the whole time that they need to build one of these where we live. We have a children's museum but it doesn't compare to The Magic House. I also was a little bummed that we don't live closer. I could see myself taking Noah to The Magic House on the weekends. I stopped by the gift shop and they have all kinds of cool toys. I found a few little things for Noah and a Magic House T-shirt. We waved good bye to The Magic House and talked about coming back again soon.
Thank you to The
St. Louis CVC
for sponsoring my family's trip to St. Louis including tickets to The Magic House. My thoughts and opinions are my own.