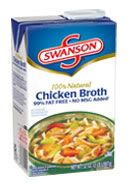 I love chicken broth, especially
Swanson's Chicken broth
. When I had my son, I had to have a c-section. The morning after my c-section they wanted me to eat something, I had to choose something off the liquid menu as I just had major surgery. I found that they had chicken broth listed. It was the only thing that sounded good, so I called "room service" and ordered some chicken broth. It made me feel so good inside. It made my incision feel better inside. The rest of my meals I ate when I was in the hospital were accompanied by chicken broth. For two or three weeks after my c-section, I drank a lot of Swanson's chicken broth. I prefer the kind that is in a carton because you can close it. I had used chicken broth in cooking but I had no idea how good it was just in a cup warmed up.

I love to cook and I had the opportunity to participate in
Swanson's Great Stuffing Debate
. The basic idea is that if you make stuffing with
Swanson's Broth
than it will be more flavorful than stuffing made with just water. Everyone has their own favorite brand of stuffing so you can take part in the Great Stuffing Debate and share your favorite stuffing with people across the US.
My favorite stuffing is definitely Stove Top. I love how delicious it is. I am not a huge stuffing fan really but I will eat it occasionally. It is a nice holiday compliment to a meal. If I am going to eat stuffing I prefer it to be Stove Top and it has to be made the right way. Stuffing is something that my family enjoys to eat. I usually only have a couple spoonfuls because there is so much other food to enjoy and I like to sample almost everything we have on our table. The few things I won't eat are anything Pumpkin or Cranberry relish or yams. Otherwise I gorge on Thanksgiving foods.
Thanks to
Swanson Broth
for providing me with a $50 gift card and providing the giveaway prize. All thoughts and opinions are my own.
I have a giveaway for you.
One (1) person will win a FIFTY dollar VISA gift card from Swanson to participate in
The Great Stuffing Debate.
Mandatory Entry: Tell me your favorite brand of stuffing
Extra Entries:
Subscribe to my blog via email. You must verify
Follow my blog on GFC
Follow @Sheilacakes7 on Twitter and Tweet about this giveaway including a link to this post. This can be done once a day.
This giveaway is open to US Residents ONLY
This giveaway will end on December 3, 2010 at 11:59 PM ET